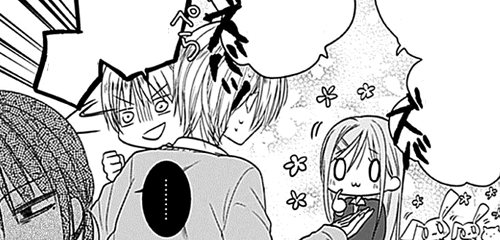 I NEED ONE PROOFREADER FOR THIS PROJECT!
Okay, that's it.
Photoshop finally works on my (new) laptop now. Which is good.
I think I'm still going to focus on novels though, for now. :3
Let's get to the releases first, then the plan.
Kaichou-kun no Shimobe Ch02: http://www.mediafire.com/?8kxgbct71puvmm1
Kaichou-kun no Shimobe Ch01v2: http://www.mediafire.com/?tl3yhm1rkbdbcsz
The second version of chapter 01 is basically the same as the original, except his name has been changed, I think. Please do change it if you're going to host it... ok?
Next three chapters have been translated! They will be done (fairly) soon.
But I need a better proofreader. (Just one, not that many please or I'll have to put you on something else).
xah~
This is the plan...
Finish certain projects.

Concentrate on releasing those, short intervals between releases.

Get up to date with other projects.

Then do other stuff.
The certain projects includes...
√W.P.B.

Afternoon Lavendar (Novel)

Gokujou Danshi to Kurashi Temasu.

World End Fairytale

Volume 01 of Gu Fang Bu Zi Shang (Novel)
The other projects includes...
"Aoi" - Hikaru ga Chikyuu ni Itakoro......

Akatsuki no Ageha

Black Trick

Kaidan Tochuu no Big Noise

Re-agree - New version
May include...
Gokujou Danshi to Kurashi Temasu. [Certain projects]

Kaichou-kun no Shimobe [Other projects]

Boku to Senpai no Tekken Kousai [Other projects]