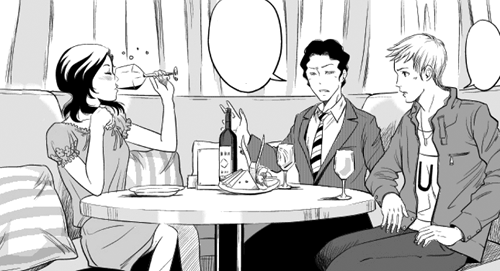 (HAH? IT'S A RELEASE?!)
In the rush, I totally forgot all the credits, so here I go again... T_T
Now where did I get up to? This chapter is edited strangely (well the typesetting is weird) and I guess it was kinda an experiment (a friend typeset this me and he doesn't usually do any scanlation at all. The font is weird but we're experimenting to see if this font really (really) hinders communication. If it really does, I'll do another re-edit/re-release.
Hah, now where am I?
Oh yeah, Black trick. Ch08 apparently had some problems too (muddled up and ended up going from right to left); messed up big time. Will re-release in a couple of days.
Okay, black trick chapter 09 download links --
Direct Download? || Mirror
I suggest the first download link, but if it really doesn't work, use the mirror (because the first one's still in early stages).
That's it for now, next release will be CMB, I'm dreadfully busy so I can't tell you when and where will be the release. The translator I finally found for this series is back to being inactive. How depressing T_T, I guess I'll re-start it then. I've got a bunch of raws to upload for now, so I won't tell you what I've been up to for the past few days.
See you (as always),
xah~
P.S: Sorry, Manchurian Editor & welcome to the forums!!