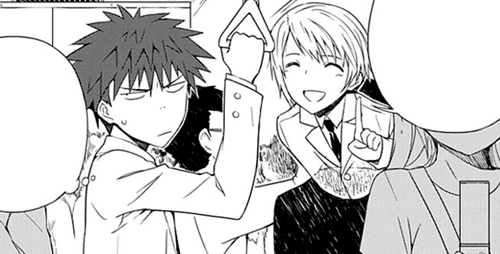 [--Yus, you finally get an update!]
Ok, I wrote another thread with the three releases I missed (technically just two though), but since it was released on different days, I think it deserves a proper release.
In this format (image, caption, text, download or acknowledgements, farewell). Something like that anyway.
Download Link(s)
http://www.mediafire.com/?8l91170z9szm5dp || DDL || Read Online
Thank you to everyone who worked on this release. On our side, thank you to Teh_ping for the awesome translation, Reika for the proofreading and Ravie for the wonderful cleans. So fast too! I was shocked when I realised that I did nothing, literally nothing in this release (mainly the credit page I guess). Thank you so much!
Don't forget to visit Rayns&Lele Scans and thank them some time (but I assume you already have since they released somewhat...earlier than us). They're a wonderful scanlation group to work with =D
Ok, see you! (which will be very soon since I'm gonna do one thread per release because they were released on separate days
 )
xah~