Was planning to release three more, but chickened out in the end lol.
Two of them are shoujo, the other two are shounen. Two of them are manhua, the other two are manga.
I almost scanlated a BL (mainly shounen-ai though) oneshot too but gave up because I didn't like the title much - Ultraman & Monster Cat. Oh come on, there's nothing about Ultraman in that oneshot and considering that OniGoji's division is doing Ultraman manga and stuff, I guess it'd probably get mistaken for something else..... = = Having said that, I haven't seen him for a while.
Almost scanlated something (lol, a oneshot) from Sho-Comi too until I realised someone else was already doing it. Haha, I'd rather not do something so tiring then~
I'll write a bit about each one, but it's probably not enough to put as a description/synopsis for anything. But I'll fill you out on most of the details.
I have a feeling that hardly anyone will read them, but oh well. = =
Let's start with the manhua oneshots first...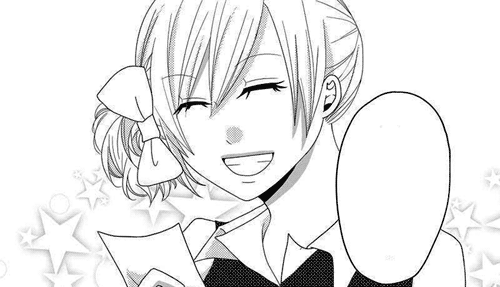 [Heart Throbbing Holidays - Are You Ready?]
The author is 檸檬綠, but it says that her English name is Lemon ★ Green. My PS doesn't support the star so her name just appears to be "Lemon Green" on the image. The original title is "心動假期 are you ready?" in Chinese and it was published in 2012 for a debut competition for Sharp Point Publishing, so it was published on the comic star.
It's not really full-blown romance since it's super short (15 pages I think?) and it's shoujo. Haha.
Description off site: (it's kinda bad though)
The first day of the summer holidays! But, it begins super badly!?
Suddenly, a beautiful guy moves into my house...which signals the beginning of...
(I told ya it was a bad descrip)
It's a read from right~left, like manga.
Download Oneshot:
http://www.mediafire.com/?3b9ocgd4e3eo811/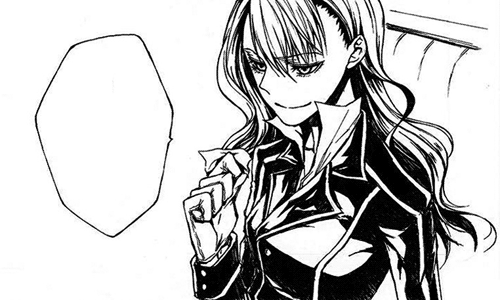 [Blood-Coloured Forbidden Territory]
This one's off U17 so it's a webcomic. The original title is 血色禁土, written by Si Mo Shui (四墨睡). The genres are shounen and action...but is it something a guy would read? Knowing U17, it doesn't have "seinen" as one of the demographics (just shoujo, shounen, BL/doujin and artwork). =_= You could probably label it as tragedy too, but it's not that sad.
A recent oneshot - 2013.
No description online, but it's basically about a girl called Kali who grows up through the deaths of her close ones. Set in a historical-like world with monsters known as "slave ghosts". Super short too.
The art is unusual but not too bad actually. The art's dark but I like it~ The manhuajia (author) seems to be a guy, but on pixiv his works look BL to me~ how weird. The girl is kinda hot and if I were a guy, she'd totally be my type lol.
Also a read from right~left, like manga.
Download Oneshot:
http://www.mediafire.com/?5mn52hn3wxk6q9h/
On to manga~~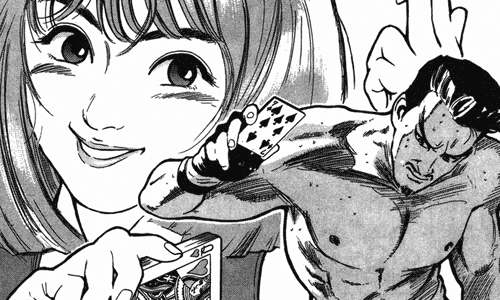 [King of Tower...or Cooking Master Boy Vol04 Extra]
I treat this one as a oneshot, but it was published in CMB volume 04. If it wasn't, I would never have translated this one.
Anyway, this one was published earlier in the year CMB began (so 1995) in a now defunct magazine could Shukkan Shounen Magazine Fresh or something...or was it a special? Anyway, I dunno. = =
If you don't mind the art, plotwise it's not too bad, quite interesting actually. It's about a guy....Kai Kesuke if I remember correctly, who loves building card towers. But because he's so addicted in building card towers, he gets very annoyed when they collapse. So this manga is basically how he finds out what's wrong with his card towers and stuff. It's rather unusual to read about card towers and similar competitions. Haha.
Dash of romance in this one too. Used a slightly different raw for this oneshot/extra from the one usually used for CMB. Therefore, it's a super big file.
Download Oneshot:
http://www.mediafire.com/?9qdetto3zgzw9ev/
[A Midsummer Night by the Pool...Choukyou Kareshi Vol01 Ch02]
Ehhhh....this one....
Choukyou Kareshi is basically a (ongoing?) three-volume collection of three (implied) smut oneshots. For one, they don't go very far. It's kinda hard to explain.... I wouldn't say it's really romance man, it's just really S x M that doesn't get anywhere. Like, you get the "ripping clothes off" part (not in this oneshot) but not the actual thing. So it's not really smut but strong ecchi. *frowns* I'm getting confused here.
I downloaded this volume ages ago when Kodansha still had that funny online trial reader. All three volumes from what I downloaded back then are still in the Raws + Translations forum.
This one is basically my favourite one....I probably wouldn't have scanlated it, and I only pulled this one out because I wanted to release a range of oneshots today = =. In this oneshot, the girl is a serious masochist nonetheless....just say sorry for goodness sakes.
There's no way I'm not gonna scanlate this series fully (maybe a few separate ones though) btw, there are a few oneshots that really put me off. Notably:
Spoiler:
I treat this one as a oneshot and it stays a oneshot - published in Bessatsu Friend, Betsufure in 2009. = =
Download Oneshot:
http://www.mediafire.com/?twbqmn53mjjnbbr/
---
That's all, oneshot wise. All releases have been placed in the
Oneshot Forum
I'd better get back on track with the gufang novel pdf.
And translating. = =
Yeah.
That's it I think.
Oops, and HAPPY NEW YEAR EVERYONE!!!!!!!!!!!!!!!!!!!
*Throws confetti*
Having said that, I ought to change the images again. = =
So much work....
It certainly hasn't been the best year of scanlation this year but oh well~
xah~~