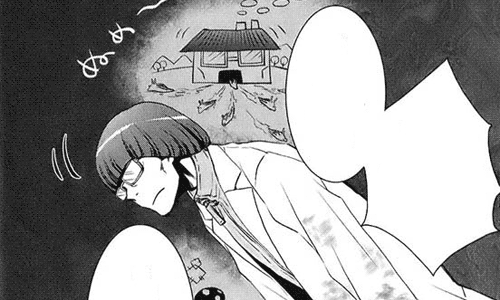 [Introduction of new chara - Katosen]
Oh well, let's do Gu Fang (novel) first.
Volume 01 Chapter 19
Chapter Nineteen:
Forum Thread
||
Read PDF Online
|| [target=http://www.mediafire.com/?araq4ev639w8kaa]
Download PDF
[/target]
Btw, the new bbcode doesn't work in the portal so click the "
comments
"
Next chapter is ready but because it will give you a heart attack (I don't want stalkers x_x), we've decided to finish translating chapter 21 so the two releases will be somewhat close. Haha.
Anyway, decided to pull Kaidan Tochuu no Big Noise out of hiatus. I will translate this everyday for one week but it's gonna be hard 'cause the redrawing is hell. Ahem, a difficult project for a few staff. Haha.
I did stupidly denoise a few pages when in the first version of chapter 01 which I didn't re-edit and there aren't much changes to the second version BUT I fixed some things that really annoyed me.
Decided to do this - follow the katakana version and put the other version in brackets. Changed, "Denkou's Stage" to "Denkou Mania" and put "Denkou's Stage" in brackets. Oh well, you'll see.
These chapters are long
and the redrawing is hell
x_x but I actually really like this series lol.
Chapter 01v2 (Basket Case): [mf]qs0bbdc39ln5w8s/[/mf]
Chapter 02 (Creatures of the Night): [mf]l6c66518kqah61b/[/mf]
...and I get the feeling that I'm doing a lot of "v2" these days...............
*would love a proofreader*
*disappears in a puff of smoke*
xah