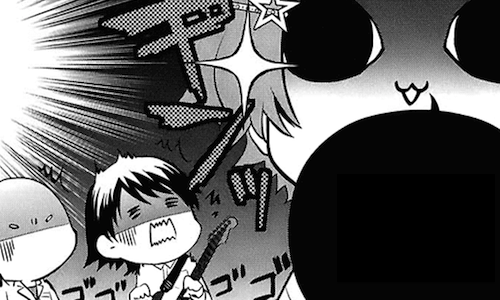 [Their first play-through, Rock and Roll All Nite, together! -- chapter 06]
Yup, I think most of you know that I plan to close the scanlation division, at least the part where I do everything by myself. This was a series where I basically did everything by myself, but it didn't really matter because I reeeaaally loved this manga. It's just so cute~ and it's a really nice slice of life~
I'm hoping someone will continue scanlating this series. I'll continuously provide the translations on the new blog, so I won't be announcing them here anymore. They'll be found at this link, from now on: http://xahkun.wordpress.com/category/manga/kaidan-tochuu-no-big-noise/
But, I'll post the link to the translation of Vol02 Ch06: http://pastebin.com/Rwu6BAf1
I did redraw the covers and the colour page, but unfortunately after adding the text, I just formatted them to .jpg (and a few grayscale to .png) as I did think we'd release it (or at least in the new blog). But that's not really likely anymore, I reckon...Anyway, if anyone who's willing to pick this series up wants them, I will happily provide the said images.
I'll probably translate a bit past where the public raw ends as I did buy a few editions of the magazines, but I don't scan manga anymore, so I can't really help with providing raws...
Well, that's pretty much it. Thanks for the few supporters of this series!! And once again, I'm so sorry for "dropping" yet another series!
xah.
P.S: The forum for Kaidan has been moved from "active" to "other/dropped". Sorry for the inconvenience...