HI!!!
1st October = China's National Day = Release = Blow to my release schedule. >.<
Anyway, I'm releasing a chapter of Akatsuki no Ageha.
It's a pretty neat series but ... *looks subdued at the magazine raws, then back at the volume raws* ...

First problem: Why the hell are some of the drawings different? The text is the same but...oh well...it seems better.

Second problem: The 'first chapter in the first volume' I'm releasing today is actually the fourth chapter released under this title in the magazine. What the hell? Did the author decide to ditch the first three chapters when he sent the volume in for publishing?? I don't think I'm missing raws in the volume so...??

Third problem: What should be the first chapter to scanlate? The 'first three chapters of the magazine' or the 'first chapter of the volume'. And what should I name the three chapters of the magazine??

So in conclusion, I'll scanlate the first chapter of the volume, since I'm assuming the mangaka decided to not publish them for a reason (and this volume came out after the magazine). I might scanlate the 3 chapters (magazine), when I get through a little more...but at the moment...I think they seem like a skip into the future and the following chapters are to tell what happened before...
Gah, I'm not making any sense here. Just forget what I said. *shakes head*.
The girl is so pretty. :3 The guy is a bit...well, he reminds me of someone else.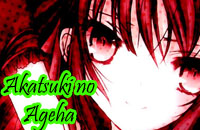 Akatsuki no Ageha Vol01 Ch01: http://www.mediafire.com/?2243kmlh2yi2v2k
(as of the volume)
xah~
P.S: We're still working on our proofreaders technique... =.=